Why you need to hire a Professional Photographer for your Business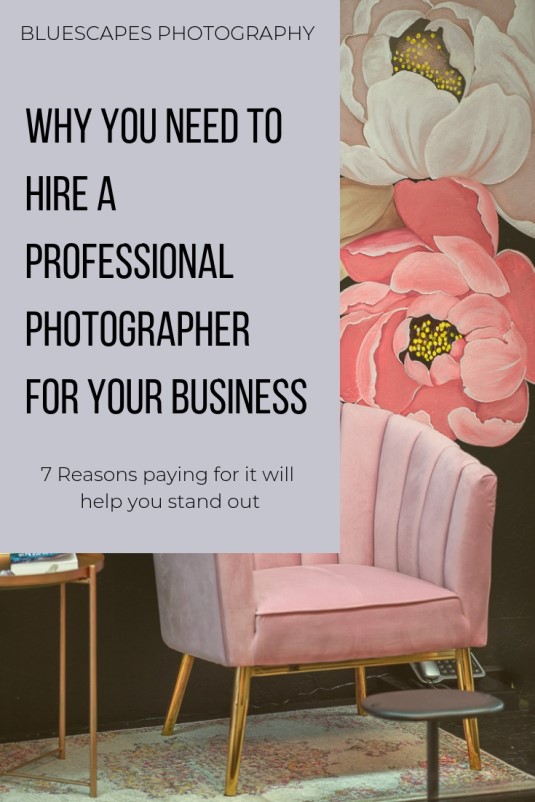 When it comes to running your own business, expenses are typically on the top of a business owner's worrisome list, and often paying for professional photos for your business is not top of mind.  Understandably so, as running a business requires so much more than providing the skills or products to your customers — Which is why so many forego hiring a professional photographer for their images.  An option that seems fairly reasonable as an expendable item, yet in reality when avoided can harm a businesses reputation. Every business from every industry, no matter what it is they are selling and to whom they are selling, needs professional photos for their business.  In fact, professional photography should be at the top of your list. Here are seven reasons why you need professional photos for your business:
Seven Reasons you need Professional Photos for your Business
Your online photos represent your business quality and brand.  While you could take your own photos at a cheaper cost to you, they will also be of lower quality.  This lower quality will communicate to your potential customers the same about your organization, products or services offered.  That they are low quality. Professional images showcase high quality.  We are visual creatures thanks to social media.  In fact, only 10% of what people read is remembered beyond a few days, but tag relevant images along with your message and your customers will retain 6x of that written information.
2. Consumer selection patterns
Consumers are becoming more and more intelligent purchasers, and they often judge a place based on the visuals provided.  Most people don't purchase a car before looking at it first, and now the same rule applies to almost everything else. This includes stepping foot into an establishment or reaching out for further information.
3. Stock photography feels inauthentic
Just as we are becoming more intelligent consumers, we are able to see through the inauthenticity of stock images, and more often ignore them entirely.  It can be especially precarious if someone sees an image online and expects that visual when using your services or coming into your brick & mortar space.
4. Develop & Enhance your branding
Online photos allow you to showcase your space, product, brand and personality to your customer base and potential new customers.  We live in a visually dominant consumer world, where the majority of people are seeking visuals for guidance and entertainment.
San Diego is known as one of the nation's leading small business city's.  Translating this to your business means your customer base is seeking out small businesses with personality to spend their hard earned money on.  People want to support you! This is trend we are seeing across the globe. Consumers want to support local businesses that have a
SEO stands for search engine optimization, and it essentially means you need to strategize your site to push it to the top of search engine results.  Images are an important part of getting your site ranked high, and a higher ranking is equivalent to receiving free advertising directly to your website. (*If you are need of Local SEO services, check out Upswing!)
A phrase that online researchers hear all of the time.  Content goes beyond the written word — think about it, how many Instagram 'Content Creators' have you seen or heard of?  And Instagram has over 800 million users active on the platform each month! That is 800 million individuals who are spending their precious free time scrolling through images.  Great images can determine if a customer stays on your site longer, and selects your business over a competitors. Professional photos are wonderful for your site, and they're also vital for a social presence.
In relation to your marketing campaign, you cannot overlook the necessity of hiring a business photographer to capture professional photos for your business.  This service will scale your business to the next level. The time to hire a business photographer is NOW and you've made it easy on yourself by looking for one here at Bluescapes Photography.
Interested in learning more about the benefits of professional photography when it comes to marketing for your business?  Are you wondering what else you can do to enhance your businesses online presence? Check out Upswing Now – San Diego's local digital media group specializing in Web Design and Local SEO services, and talk to one of the specialists today!